Piano Tuning & Maintenance Services
---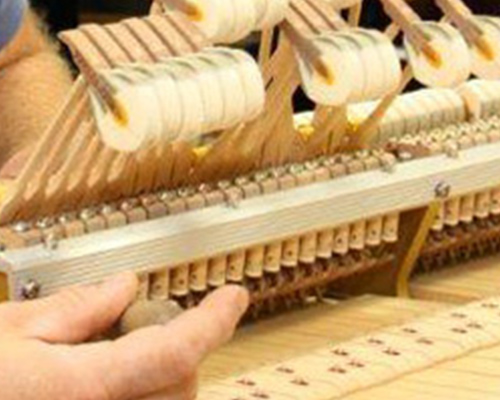 One of our passions is helping our customers enjoy their instrument over generations. Many of our staff and crew developed an appreciation for music through an instrument passed down through the family.
Evola Music's service experts are highly trained and experienced in tuning a wide variety of instruments - baby grand, concert grand and upright pianos are just a few! Our technicians diligently strive to educate themselves on the technical improvements that piano manufacturers continually make. This information helps them fully understand the changing needs of our customers.
Benefits of Routine Piano Maintenance
---
Unless you're an experienced musician or someone who has a keen ear for sound tuning, it is sometimes difficult to know when your piano needs tuning. Routine maintenance is needed for a piano even if you are not playing it! There are thousands of parts that expand and contract with humidity and temperature changes. That is why it is important to speak with the Evola Music team, they can help you understand and recommend what your piano truly needs!
Here are just a few of the benefits of enrolling your piano in a routine maintenance program:
Improved Sound Quality – It stands to reason that optimizing the strings of your piano can improve timbre, but there are other aspects of the instrument that should be cared-for as well.
Improved Touch and Response – Many people don't recognize that tuning is only one portion of piano maintenance. It doesn't matter how good the tone of the piano is if the person playing it cannot make the colors come out as they should. The player must have precise control over everything involved in the pianos' tone production. Regulation and adjustment of the piano action is just as important as tuning, and may also be affected by changes in temperature and humidity.
Uncover Issues – Similar to your vehicle, there's a lot going on with your piano that remains unseen. During your tuning, a skilled technician will be able to uncover any issues or risks to your pianos longevity.
Contact Evola Music in
Metro Detroit & Traverse City
---
From tuning your new piano for the first time to restoring your prized family instrument to like-new condition, and everything in-between – your goals can be accomplished with help from Evola Music's technicians!
Visit the Evola Music location nearest you to schedule a consultation with one of our experts!